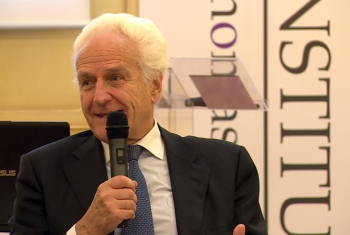 January 21, 2016 • Video •
---
Best moments of the speeches of Dr. Timur Zhantikin, Deputy Chairman of the Committee for Atomic and Energy Supervision and Control of the Ministry of Energy of the Republic of Kazakhstan, Andrew C. Weber, former Assistant Secretary of Defense for Nuclear, Chemical & Biological Defense Programs, Benjamin Hautecouverture, Senior Research Fellow, Fondation pour la recherche stratégique (Paris) and Jean-Pierre Schaeken Willemaers, Chairman of the Energy, Climate & Environment Department, Thomas More Institute.
---
It may be too early to judge the success of the last July agreement on the Iranian nuclear program. But the crisis that pitted Teheran and the international community has highlighted the sensitive issues related to supply and control of raw materials (uranium) – this question being one of the blind spot of the NPT in 1968.
In order to better prepare for the future, one should seek transparent and innovated solutions offering better control of fuels needed by actors seeking to develop a civil nuclear capability. Kazakhstan, which suffered the consequences of nuclear testing first hand, will host the International Atomic Energy Agency's LEU Bank. How will this new IAEA initiative, which presents itself as a low-enriched uranium supplier of last resort, address concerns, in particular that of proliferation?  How does it work? How does it refer in relation to market mechanisms? What challenges does it reply?